West Zone Sports Tournament 2014 of Indian Council of Agricultural Research (ICAR) was organized successfully at Central Arid Zone Research Institute (CAZRI), Jodhpur during November 20 –24, 2014. The tournament was declared open by Dr BS Rajpurohit, Vice Chancellor, Jai Narayan Vyas University (JNVU), Jodhpur and Chief Guest of the inaugural event. He complimented efforts of CAZRI in arid zone research and also in developing fine infrastructure for this tournament. He mentioned the importance of such sports tournament for team building and creating a better working environment.
A total of 527 sports persons and officials from 16 ICAR institutes viz. CIAH Bikaner, CIFE Mumbai, CIRCOT Mumbai, CSWRI Avikanagar, DoGR Junagadh, DOGR Pune, DRMR Bharatpur, ICAR RC Goa, IGFRI Jhansi, NIASM Baramati, NRCAF Jhansi, NRCC Bikaner, NRCC Nagpur, NRCSS Ajmer, ZPD (VI) Jodhpur and CAZRI, Jodhpur participated in this tournament.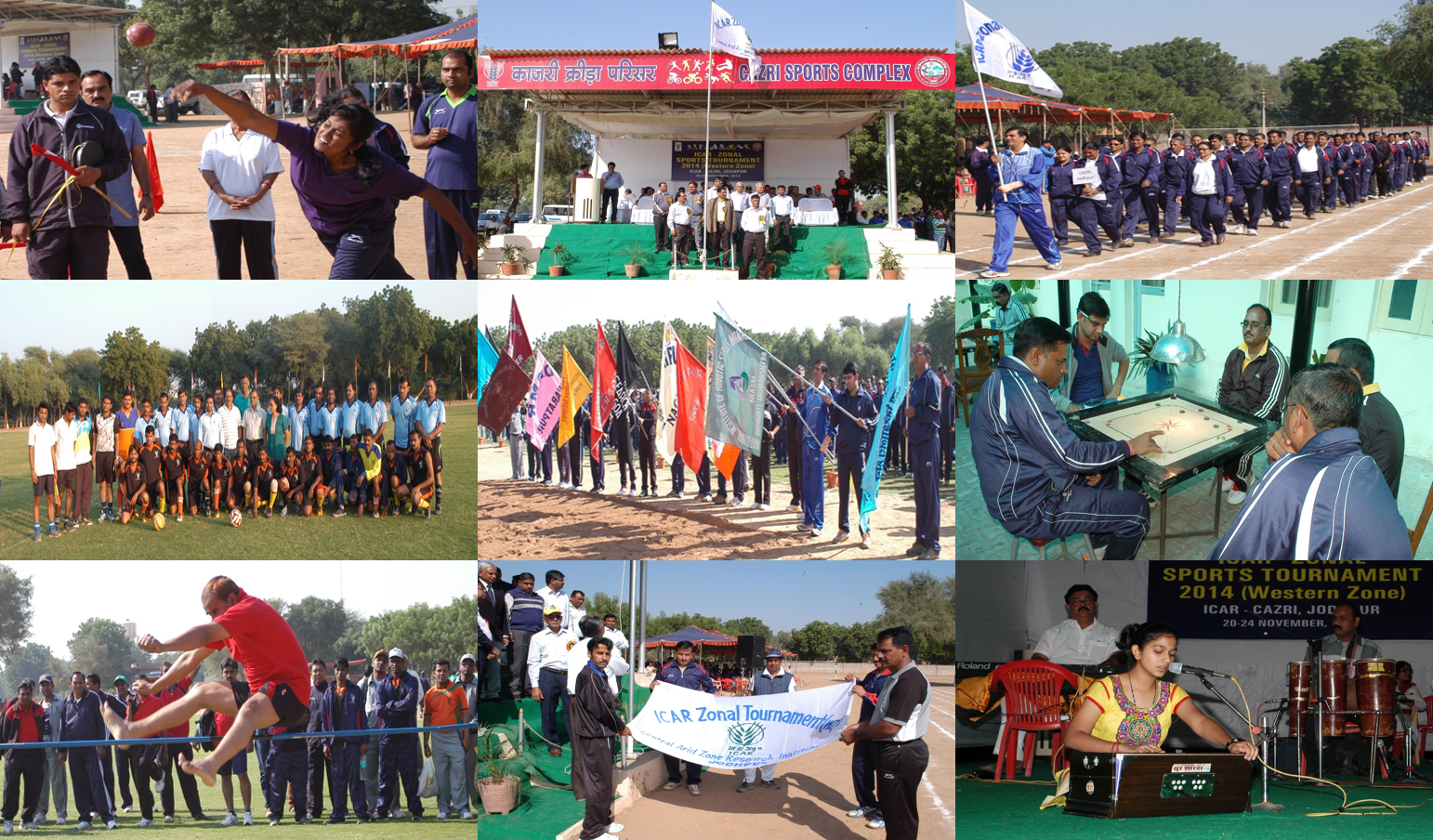 Various athletic events organized in the tournaments included races of 100 m, 200 m, 400 m, 800 m, 1500 m for men; 100 m and 200 m for women; shot put, javelin throw, discus throw, long jump and high jump for both men and women. Badminton, basketball, table tennis, kabaddi, football, volleyball (smashing & shooting) were played as team event for men while badminton and table tennis were individual events for women. In addition, carom and chess were played as individual events for both men and women.
A cultural programme was organized in which Chief de Missions (CDMs) and sports persons also performed, making it a memorable musical evening.
The tournament was concluded on November 24, 2014 by Dr YV Singh, Director, ICAR-Zonal Project Directorate (VI), Jodhpur as the Chief Guest of the closing ceremony. Dr Singh presented the medals and trophies to the winners. Dr MM Roy, Director CAZRI presided this function and complimented the participating institutions for their exemplary discipline and sportsmanship.
Ms. Mathala J. Gupta, ICAR RC, Goa and Mr. Manjunath Gouda, DoGR, Pune were adjudged as Best Women and Men Athlete, respectively. The overall Championship was won by CAZRI.
The events were conducted by Dr RK Kaul, Principal Scientist and Mr Gaje Singh Jodha, Technical Officer, CAZRI.
Earlier, Dr RK Bhatt, Head of Division, CAZRI welcomed the guests and the participants.
Dr Anurag Saxena, Principal Scientist, CAZRI proposed the vote of thanks.
(Source: ICAR-CAZRI, Jodhpur)